Inductee: Hall of Fame
Pascale Gomes-McNabb for Cumulus Inc
45 Flinders Lane
Melbourne, Victoria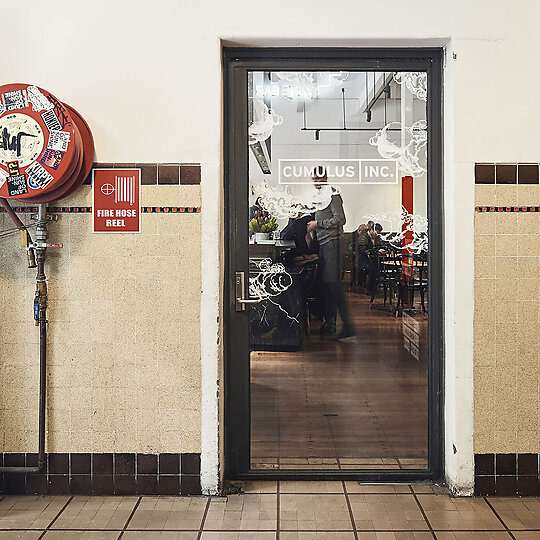 Jury Citation
Surpassing revolutionary design and highly conceptual branding, the ingredient that most often makes a restaurant successful and even iconic is the creation of a space in which the owner themselves would want to spend time. That was the case with Cumulus Inc when it opened in 2008 in an airy industrial space on Melbourne's Flinders Lane that was formerly an art gallery.
Both designer Pascale Gomes-McNabb and chef Andrew McConnell say that the main inspiration for Cumulus Inc's design was a space to fit the style of hospitality on offer. And that hospitality was based on their own longing for, as Gomes-McNabb puts it, a place that could be - anything to any person at any time."
"We wanted to create somewhere that we wanted to go," she says. "And that, basically, was somewhere where we could have anything we wanted at any time of day." It was a project that almost didn't happen. McConnell and Gomes-McNabb, who were married at the time, were deep in the throes of wrestling Cutler & Co to life in Fitzroy. Gomes-McNabb came across the Flinders Lane space while purchasing a print from Arc One, the gallery that occupied the building. The owners told her they were thinking of putting a cafe in the space, and asked if she and McConnell would be interested.
At first they said no, thinking themselves in too deep with Cutler & Co to take on another project. But Gomes McNabb says, "I could not stop thinking about it. I eventually said , "We can`t not do it."
McConnell was convinced, in no small part thanks to the space itself. "Those huge, north-facing industrial windows... it was just a beautiful room to be in," he said. "And it lent itself to being a great daytime restaurant."
At that time, the idea of an all-day restaurant built on fine dining principles was fairly revolutionary in Melbourne. And the design was integral to that concept working. "The success of the design is that it understood and spoke to the offering," McConnell says.
The configuration was key: the twin bars, one a classic bar and one facing an open kitchen; the banquette seating and communal tables. Tables can be configured in a number of ways, to suit different services and times of day.
Gomes-McNabb says, "It used to be a warehouse, and I really wanted to keep that sense of spaciousness and openness." That meant not adding too much adornment, while simultaneously creating a sense of space that would feel convivial and not too vast.
McConnell says that many of the things that make Cumulus Inc work so well are subliminal rather than obtuse. "Its the accessibility that allows the restaurant to have a certain pace. The spacing of the tables is slightly more generous, it gives people enough room to move." That allows, he says, for that ineffable but magical quality - that when you step into the right kind of restaurant, it delivers a crackling energy. Or, as McConnell puts it, "making it hum."
Aside from some minor changes in lighting and surfaces in 2018 that McConnell describes as "a subtle uplift" - done primarily to replace worn surfaces and outmoded technology - Cumulus Inc looks much the way it did when it opened eleven years ago. And it still feels as fresh and vital as ever. "We wanted to make a classic place, we wanted it to last twenty years or more," Gomes-McNabb says. "We were looking at longevity."